17.12.2013
The Gatchina Palace as seen in watercolors by Edward How and Luigi Premazzi
The Pushkin Museum of Fine Arts in Moscow inaugurated the exhibition "The Gatchina Palace as seen in watercolors by Eduard How and Luigi Premazzi" on December 17. The unique collection from the Gatchina Palace-Preserve is the first time it has been displayed in Moscow in its entirety including all 56 sheets. The exhibition is available for viewing until March 31, 2014.

The watercolors by E. How and L. Premazzi are remarkable for their subtle workmanship, color scheme and details in illustrating elements of the palace interiors and are also of great historic significance. They provide an almost photographic record of the former grandeur of the Gatchina Palace, a major imperial residence that has survived the destructive war in the previous century.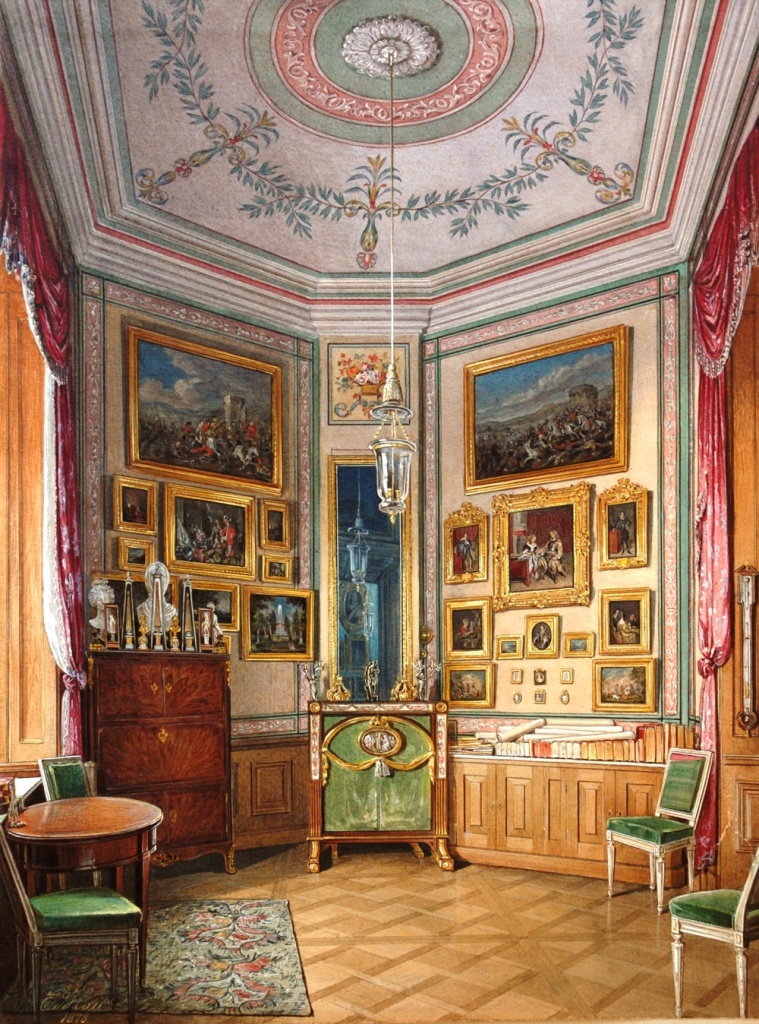 In addition to the watercolors, the Gatchina Palace Museum also has several authentic exhibits on display from the palace and fascinating and rare artworks of printing, associated with the Imperial family such as Court Calendars for 1794 and 1798, The Oda on Betrothal of His Imperial Highness Grand Duke Alexander Pavlovich and Grand Duchess Elizaveta Alekseevna. 1793; Military Exercises, Preparations for Reviews, Titles and Ranks of Regimental Officers. 1756; General's Uniform Regulations, 1856.




E.P. How. The Tower Study of Paul I.
Watercolor on paper.

Edward How's watercolors, depicting in detail the rooms of the Gatchina Palace, allow us to visualize the Palace as it appeared in the second half of the 19th century. He produced 56 sheets with images of the Gatchina Palace from 1874 to 1880. Today, all of them are part of the Gatchina Palace collection, including images of Nicholas I's and Alexander II's working studies that the artist made earlier, in 1862. Another prominent painter – Luigi Premazzi produced two more watercolors in the 1870s depicting the interiors of the Gatchina Palace. The watercolors by How and Premazzi are noteworthy for their workmanship, details, and validity in rendering the architecture, furniture, and decorative items. They were crucial in developing renovation projects for the Gatchina Palace that was damaged greatly during World War II.