Cold Bath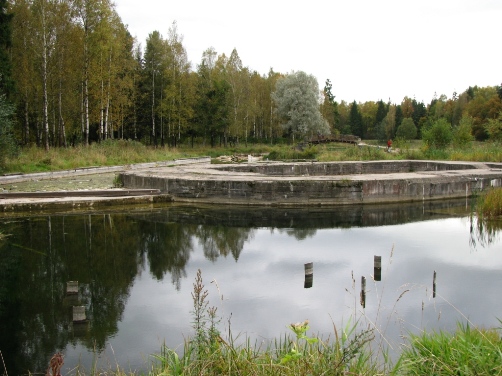 The Cold Bath is a common feature in a landscape park. It was constructed according to the designs of Andrean Zakharov where the Kolpanka River flows into the White Lake. After Paul I' death, construction work on the Bath was halted.
In 1882, the architect K.G. Prays examined the Cold Bath with intentions to reconstruct it. He proposed that its walls be raised above the water level, and that the marble columns installed on them, delivered to Gatchina in 1832 after the completion of the gates at the Engineers' Castle, would be dismantled. His proposal, however, was rejected. The structure remains uncompleted.
In the 1980s, the Cold Bath underwent major reconstruction. As a result, the construction elements of the pool and cascade, originally made of limestone, were replaced with iron and concrete. The work was halted again in the early 1990s.