Private Garden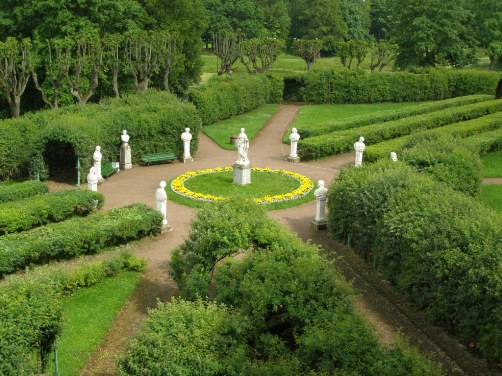 Adjacent to the palace is the Private Garden intended for the enjoyment of the imperial family only, hence its name. This part of the park was most likely laid out in 1794-1795 under the supervision of Vincenzo Brenna, the court architect of Paul I.
Pavel Petrovich's private rooms on the ground floor overlooked the Private Garden. The study of the Emperor in the tower could be accessed by a terrace and a flight of granite steps flanked by two sphinxes of local limestone The Garden is remarkable for its marble statues dating from the mid-18th century.
In the centre is the goddess of flowers Flora by Fabio Medico. Placed around it at the radiating walks are herms, skillfully carved of Carrara marble. Pergolas that became a common feature of formal gardening lend this park a picturesque and distinctive air. In the second half of the 18th century pets of the imperial family – dogs, cats and parrots were buried in the Private garden.