Anteroom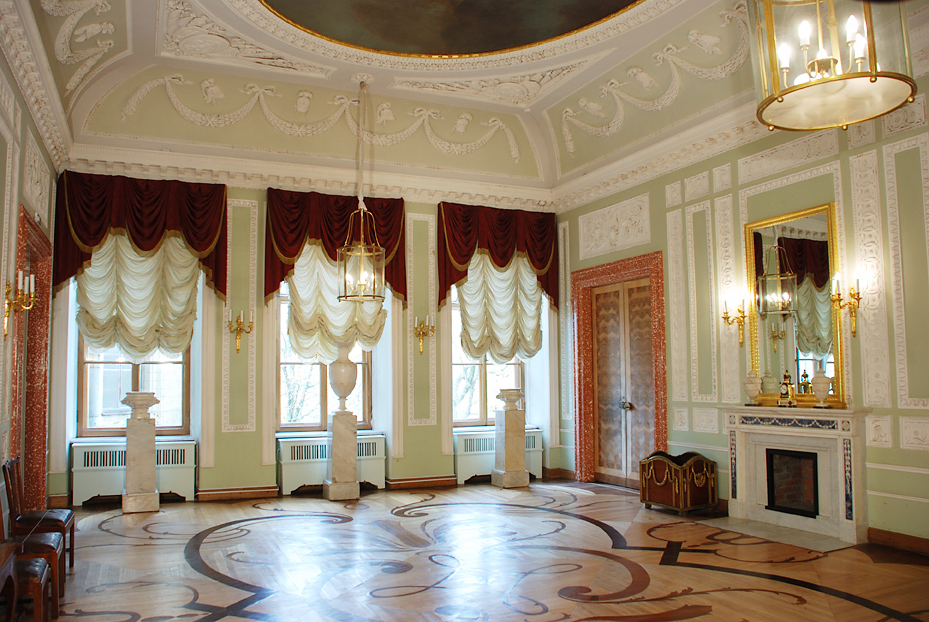 The Anteroom opens a suite of state rooms on the first floor. It served as a reception room for visitors awaiting the appearance of His Highness to attend a church service or dinner. The changing of the guard ceremony took place here to the music of flute and drum.
When remodelling the palace for the use by Grand Duke Pavel Petrovich, the architect Vincenzo Brenna introduced the symbolic representations of knighthood, valor and courage. The lighting lanterns shaped as military drums were fashioned at the same time.
The ceiling painting entitled Trust and Love is the work of an unknown 18th century Russian painter (the painting was introduced during the 1980s restoration)
During the Palace remodeling in the mid-19th century the appearance of the Anteroom was somewhat altered. Its walls were adorned with monumental paintings and marble vases set on pedestals were placed by the windows.
As part of the restoration the Academy of Fine Arts provided an 18th century fireplace of marble and lapis lazuli to replace the lost one.
The 18th century decorative objects of applied art complete the interior decoration – Chippendale-style chairs, card tables and the fireplace wood bin that appeared here in the reign of Alexander II.