Marble Dining Room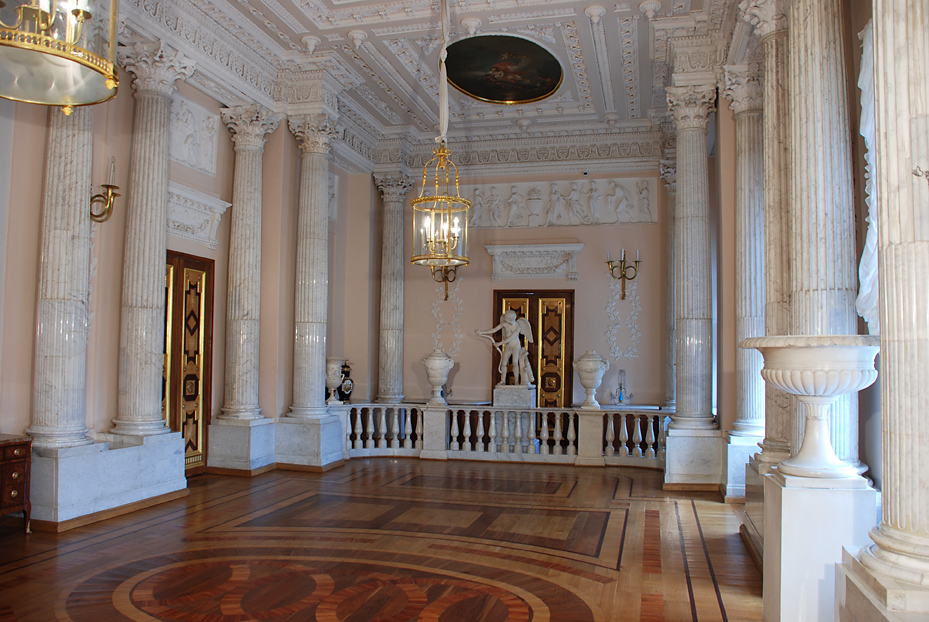 The Marble Dining Room is one of Vincenzo Brenna's most refined interiors in Neoclassical style. The space of the room is divided into two architectural volumes: a larger area, where tables for ceremonial dinners were set, and a butler's pantry separated from the main space by the balustrade. In the centre stands the statue of Eros Stringing the Bow (the 18th century copy of the original by Lysippos).
The principal feature of the interior decoration is a set of sixteen fluted Corinthian columns. Hewed out of Carrara marble, they were brought from Italy in the 18th century. For wall decoration, the architect employed a technique characteristic of the Russian neoclassical style – white stucco ornaments stand out impressively against yellow pale background.
The ceiling painting is adorned with richly decorative mouldings that set off the two pictorial inserts. The one over the butler's pantry is entitled Selene and Endymion (20th century copy of Torelli's painting), the other – Belief and Hope, in the centre, executed by an unknown painter of the second half of the 18th century.
The Marble Dining Room suffered badly in World War II. It took almost 13 years of meticulous restoration to restore this spectacular "marble room" to its former grandeur.